Blog Post Brought to You By: Evolve Vacation Rental
As the country considers reopening, travelers reconsider vacation rentals
As the first full month of spring, April showed surprising signs of life in the vacation rental space. It's a remarkable contrast to March, which now seems to be the brunt of the cancellation crush. Before we dive into the data, we once again thank those on the front lines of the COVID-19 health crisis and offer our condolences to anyone suffering from the virus. We appreciate and support everyone working to keep us all safe.
As much of America (and the world) stayed home in April, something shifted. Whether it was the beginning of the end of stay-at-home orders, the national conversation about reopening the country, or just isolated people dreaming of future travel, inquiries and bookings started to come back — very suddenly. If March was a slide, then the back half of April was a trampoline for Evolve. During the month, we saw:
Inquiries from travelers increase by 317%
Gross bookings increase by 432%
Cancellations decrease by 52%
It's already a cliche to say that we live in unprecedented times. But the speed of change in the vacation rental space has been just that. In March, the massive volume of guest cancellations strained our resources. Now, the flood of inquiries for new bookings in our homes is threatening to be just as disruptive.
We're not complaining at all. Recovery in any form is everyone's goal. We just didn't anticipate it beginning so quickly after such a difficult March. It's dizzying, but also heartening. Let's look at the larger short-term rental travel trends we saw this month.
COVID-19 and short-term rental: April data and trends
The short story here is that traveler demand has suddenly reappeared. The first half of April was a continuation of March, down by almost every measure. Midway through the month, everything changed. Let's look closer.
An about-face in traveler inquiries
The slump of new travel inquiries that began in March continued into the first half of April. In fact, April 11 was actually the lowest point of the year so far with guest inquiries down 280% compared to the same date last year. Surprisingly, it became a completely different story just two weeks later.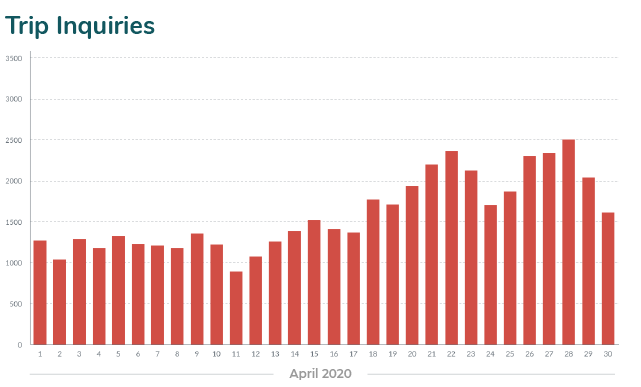 In just a four-day span (April 17 – April 20), guest inquiries to our Travel Advisor team saw a dizzying rebound, from being down 88% compared to last year to being up 94% compared to last year. That trend has continued and inquiries have consistently outpaced last year's volume since then.
While the speed of recovery has been unexpected, we always assumed the appeal of booking a private home would allow the vacation rental industry to rebound quickly when the demand for travel returned. The second half of April is a strong sign that it might already be here.
More questions than conversions
As positive as that about-face is, inquiries are just that. A potential guest who calls or submits a question about a property isn't guaranteed to commit to booking it. True recovery needs more than inquiries; it needs inquiries that convert to confirmed bookings. So far, we're getting more questions than conversions from potential guests.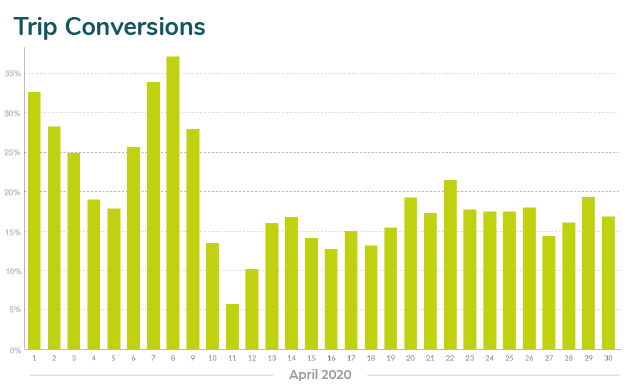 Historically, a healthy conversion rate is above 20% of inquiries for Evolve (at least one out of five inquiries books a stay). The conversion rate at the end of April of 2020 was averaging below 15%. The feedback from our Travel Advisor team fielding the spike in inquiries is that potential guests have a lot of questions about flexibility for cancellations, cleanliness in our homes, and how to find the lowest rates.
So it looks like the demand for travel is growing, but people are understandably being more cautious in planning. The unpredictability of travel and/or short term rental restrictions means guests want reassurances about cancellation policies. Lingering questions about virus transmission means guests want information about cleanliness. And rates are always a year-round concern.
Our team is working very hard to answer every question, build confidence in our homes and cleaning standards, and convert more inquiries into stays when appropriate.
Bookings go bigger, but cancellations continue
Similarly, the second half of April was a reversal from the previous weeks for gross bookings. In early April, gross bookings were continuing at the low levels from March, with April 4 as the low point for booking volume for the month.
Sure enough, the second week of April was the turning point. Gross bookings steadily increased starting on April 13 and continued throughout the month, ballooning 432% from the low on April 4 to the high on April 29. Even better, during the last few days of April, gross bookings were actually up by about 30% on a year-over-year basis.
While this is good news, the total gross booking volume for the full month of April is still well below what it was last year. The increase in new bookings is a great start, but we likely won't see "normal" occupancy rates until cancellations return to historical levels.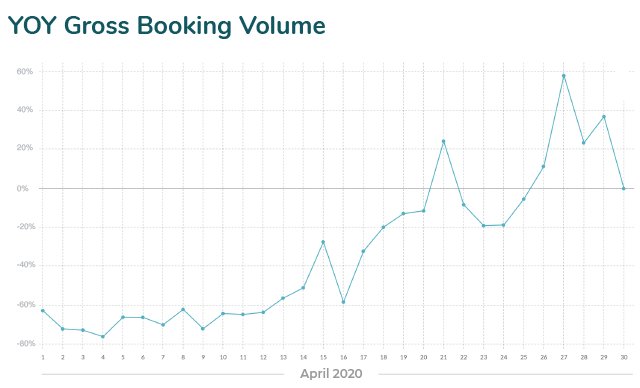 The trend of cancellations in April is less surprising.
Cancellation volume was still extremely high in the beginning of April. Not only was April 2 our lowest point for guest inquiries; it was our highest cancellation volume for the month. Not a healthy or sustainable combination. Fortunately, it didn't last.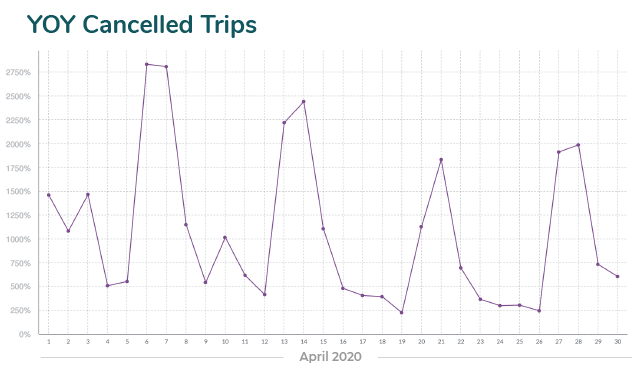 You can see that by month's end, cancellation volume had eased up to less than half of the early high point. The easing of some stay-at-home orders nationwide and more clarity on those orders that remained seem to have been a factor, making more guests comfortable that they could leave their plans in place.
There's also a general consensus in the travel industry that road trips and private accommodations will be the near-term future of vacations — a good sign for vacation rental owners.
So we're not out of the woods yet. Cancellation rates are still well above normal as travel bans and event cancellations continue to impact plans. For example, Florida made the baffling decision to extend restrictions on short-term rentals "indefinitely" while allowing hotels to open. As long as uncertainty like that exists, cancellations will remain elevated. But the numbers are improving.
What's next? How Evolve is taking action
As always, Evolve's main goal for owners is to position them for success. We're starting to see positive signs that our focus on offering only fully-equipped, private vacation homes might speed recovery for our owners in the second half of the year. Here are some of the ways we're helping:
With a spike in last-minute demand, we're asking owners to opt-in to next day bookings (where allowed and appropriate). This policy change has been an instant success, already delivering incremental bookings to create a new source of revenue.
Florida ended the month extending their ban on short-term rentals "indefinitely" while allowing hotels to remain open. We're working with our owners and partners to encourage Governor DiSantis to reconsider this unfairly extended ban.
We continue to use our proprietary SmartRates technology to monitor and instantly adjust to ever-changing circumstances in any given area. As demand returns, owners should begin to notice a steady increase in their nightly rates.
All in all, it's a tale of two Aprils. We're glad that some recovery has begun and that heaviness of March has lifted. Everyone at Evolve is still working every day from their homes to do the most for our owners and guests. So it's nice to see some positive trends.
If you're an existing Evolve owner, rest easy knowing that we're proactively working on your behalf to navigate this crisis successfully. If you're thinking about partnering with Evolve and have questions about this or any other aspect of managing your rental property, feel free to schedule a call with one of our Vacation Rental Advisors to learn more. There's no pressure at all and we genuinely want to help you if we can.
Stay well and let's take care of each other.